Lease Check-up
This is a top level review of your existing cell tower lease where we provide a summary of comments/concerns and areas for renegotiation.  We use our experience from negotiating numerous leases to offer you an overview of key sections from YOUR lease (e.g., rent, lease term, taxes, etc.) where you may be able to negotiate more favorable lease terms (we can also help you negotiate those terms – see our Your Personal Lease Coach section).
The check–up process:
you send us your lease
we give it a thorough review
we return a custom review highlighting any key areas of concern and provide recommendations for any improvements that can be made
in basic terms, we are looking for opportunities to help you make more money!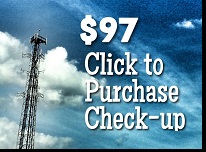 Your Personal Lease Coach
We take you step by step from the initial "are you interested?" call from a site acquisition consultant all the way through and including negotiating and signing a mutually agreeable cell lease.
Our goals include:
helping you maximize the lease income
protecting you with guidance and suggested edits throughout the lease.
We work closely with you so that:
you understand the value of your property to the cell company
we can identify specific requirements for you and your property (e.g., the ability to relocate the cell tower so that you can develop the rest of the property in the future)
We do all of this to help you negotiate favorable lease terms.
Already have a cell tower on your property and the tower company is asking you to amend the lease?  We help you understand the tower company's "ask" along with determining what other provisions of the lease you may be able to renegotiate.